Baggage
Discover how many baggage and what is allowed to take with you before the flight.
Hold baggage to be checked-in
Your pieces of baggage have to be always labelled with your name and contacts – possibly both inside and outside – and can not exceed in weight and number a specific allowance that depends on the:
airline

class of service

destination
Inside the hold luggage, it is strictly forbidden to carry:
Any item provided with alarm devices

Gases (freezing, flammable or non-flammable, posionous, etc.) as Butane, Propane, Oxygen, Nitrogen, camping gas, compressed gases for medical or sports use

Corrosives, acid or alkaline materials, Mercury, vehicle batteries

Explosives, firearms, weapons and ammunitions - unless they are part of authorised hunting or sport equipment - rockets, detonators, fuses, grenades and mines, toys resembling or rerpoducing weapons

Flammable solids and reactive substances, including Magnesium, firelighters, fireworks, flares, flammable liquids, like Petrol, Gasoline, Methanol

Other dangerous goods and items like magnetised, toxic, noxious, blistering agents, oxidizers and organic peroxides, including Bleach

Poisons and infective agents and/or substances

Biological liquids (blood, urine, etc.)

Radioactive material

Devices with installed Lithium batteries

Torches with installed batteries
In case bag allowance is exceeded – information and limits are usually reported onto the ticket – passengers will have to pay an excess baggage fee (to the airport ticket office), that varies according to the variables mentioned above.
It is therefore recommended to check always in advance with the carrier baggage rules and limitations.
---
Hand baggage
Usually, each passenger can carry onboard a single piece of luggage: since carriers may have different hand luggage rules and limitations, it is extremely important to check with the airline, before departure, whether specific regulations apply. It is forbidden to carry in the hand luggage: guns, firearms, weapons, toy guns and weapons and replicas of all types, any pointed/edged/sharp object (cutlery, knives, penknives, box cutters, knitting needles, nail files, nail clippers, razor blades, scissors) blunt instruments, explosives, chemical, toxic and flammable substances as well as any kind of spray.
---
Regulation for the carriage of liquids
Only small quantities of liquids are allowed onto the aircraft in the hand luggage: they have to be carried in individual containers with a maximum capacity of 100 ml. (3.4 Oz.) or 100 gr. each and held in a re-sealable transparent plastic bag of a capacity non exceeding 1 litre or a size of 18x20 cm. per each passenger. Liquids include but are not limited to: gels, hair gels, pastes, lotions, liquid/solid mixtures and the contents of pressurised containers, toothpaste, drinks, soups, syrups, perfume, shaving foam, aerosol and other items of similar consistency.

Should passengers need to bring on board medicines and special dietary liquid substances, including baby food, exceeding the above mentioned restrictions, but necessary in proportion to the trip, they shall proof real necessity to carry these items in such a quantity.

Duty free liquids purchased from any airport or airline may be carried as hand luggage provided the duty free liquid and its purchase receipt are sealed at the time of purchase inside a security bag with a red border. This security bag con not be opened until the arrive at final destination. The security officer may need to open the security bag for screening: in case of connecting flights at other airports during the same trip, it is necessary to ask the security officer to re-seal the duty free liquids.

At Security, all the authorised liquids have to be taken out of the bag and presented separately.
These liquid rules do not apply to the hold luggage: such items may be therefore carried with no limitation in the checked baggage.
No rights may be derived from these lists. The Security staff, at all times, reserve the right to refuse an item on the grounds of security.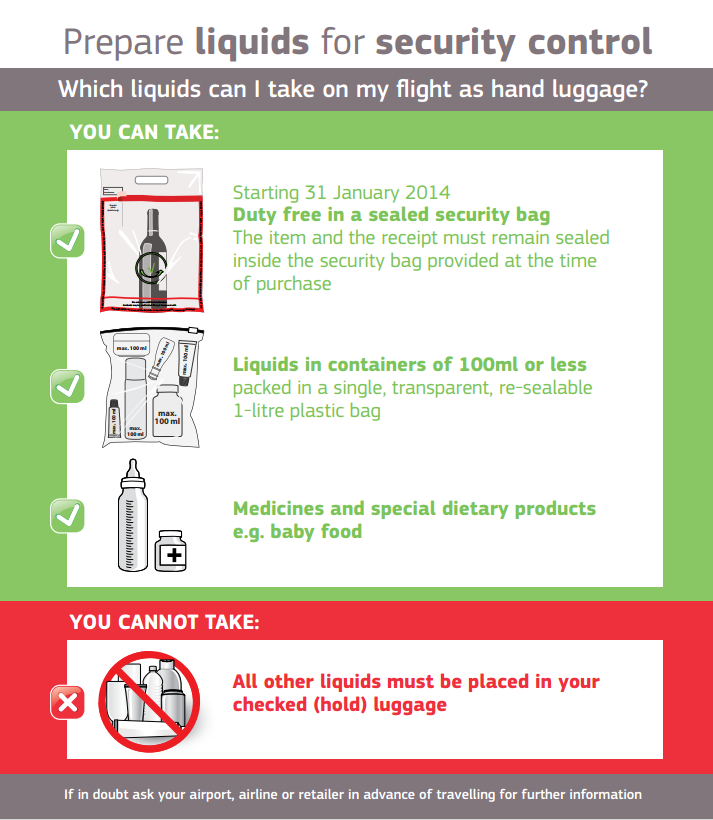 ---
Special baggage
For the carriage of special baggage, like sports equipment – surfs, bikes, ... – fragile objects, etc. its is necessary to notify the special bag at the time of booking. For further, more detailed and ultimate information on special baggage, always refer before departure to the airline.